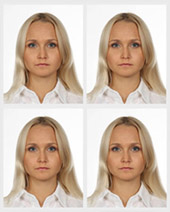 We take photos for all kind of documents offhand. Depending on your demand we can print every size of picture from 1x1cm to 20x30cm. Up till now we have made more than a hundred thousand pictures of various purpose (visa, graduate diploma, id, etc.). At our database we host photographs of over fifty thousand person, for whom, on their request, we keep their pictures for possible reprinting. Since 2006 we specialize in new branch - biometry. Biometric pictures are now obligatory for USA visa and Polish passport. In the near future it will be used at all personal documents.
Saving on your pendrive or CD disk - FREE!
Sending via e-mail - FREE!
Saving in our database for reprinting - FREE!
(only on explicit request, attention - we do not archive the photos without clients agreement)